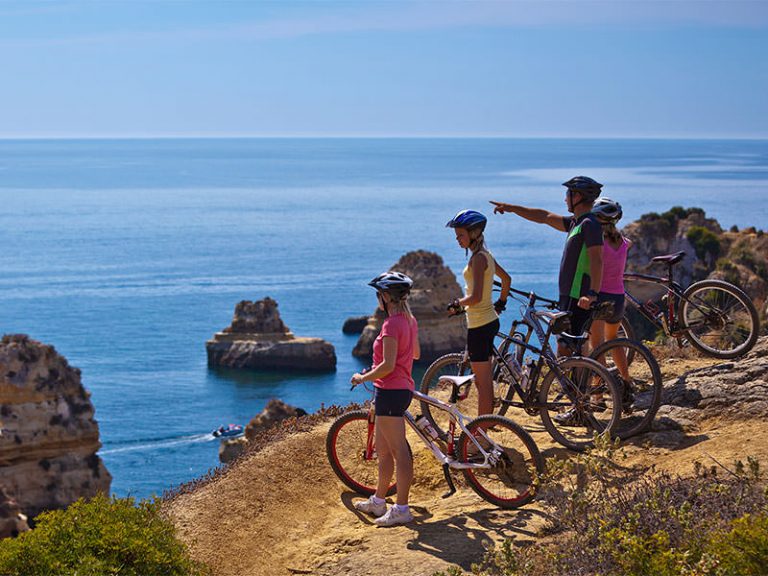 Looking to rent a bike in Algarve?
Avalance Algarve Bike Shop is the best place to rent bike in Algarve, Portugal.
We've got the best advice, best tours and best bikes!
Algarve is the beautiful southern coastline of Portugal. This is a region blessed with stunning beaches, beautiful fishing cities and a beautiful climate, all of which combine to create the perfect holiday destination. The Algarve is very diverse, able to attract many tourists; there are pristine beaches for families, water parks for teenagers, lively nightlife for young couples and historic cities for cultural tourism.
Looking for tips on things to do in the Algarve?
Below are 7 amazing places to visit in the Algarve to admire the coastline:
1. Ponta da Piedade
Headland south of Lagos is no less amazing. Limestone piles and tortured cliffs have a reddish color and are supported by natural arches and caves. You can go down to clear water, which is fully protected by rocks and has an enchanting emerald color.
2. Benagil Cave
Benagil Cave is probably one of the most famous and best places in the Algarve. Benagil is round with a colorful dome and a hole at the top for incoming light. Everything is there for unforgettable moments!
3. Cape St Vincent
On this headland in Sagres you will stand on the most southwestern point in Europe. Apart from its geographical significance, this is also a stunning setting, with a 75 meter cliff above the ocean and a cinematic view of the rocky seas in the north and also east towards Sagres Point.
4. Praia da Rocha
Praia da Rocha combines the views of the steep Algarve coast with pure sand and swirling waves. You can arrive at the foot of a strange rock formation for photos, and if you don't mind climbing can follow the coast around to find a secret beach framed by these giant carved stones.
5. Praia da Falesia
Pushing nearly seven kilometers is a golden sand beach traced by striped cliffs with various ocher colors. The competition is hard, but this is probably the biggest beach on the Algarve and also one of the longest in Portugal. The cliffs have a lot to do with it, because the combination of pale sand, blue sea and pale red stone makes this a wonderful walking destination in the off season. There are cliff-top trails through pine forests and with beautiful views. Come at sunset when the light is phenomenal.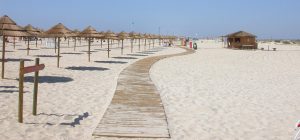 6. Tavira Island
This is a long and narrow barrier island, a few hundred meters from the city of Tavira. You can get there by boat, which departs from the city marina and nearby Quatro, or cross the bridge in Santa Luzia and take the tourist train operating in the summer. You will know why you are making a crossing as soon as you arrive; the Blue Flag beach on Tavira Island is outside this world, even with the high standards of the Algarve.
7. Watch Dolphin
In all the main marinas along the Algarve you will see advertised sea boat trips. For example, there is fishing in the deep sea, but the experience you really appreciate is dolphins. There are a large number of public dolphins and bottlenose on the high seas of the Algarve, so you are almost guaranteed to have a successful expedition. It also becomes easier because of the curious nature of the creature, and before you know it, an amount of up to 50 will keep you together. The best companies bring along marine biologists to give you additional insight into the habits and physiology of dolphins.
Algarve is a fantastic place for biking with some of the best biking routes in the world.
Some of the most enjoyable Algarve holidays come from tours or multi-purpose trips. Each coastal city has a very different atmosphere and appeal, and there is no long distance to separate it.
The popular route combines a calmer r and more relaxed Eastern Algarve (Tavira or Vila Real de Santo António) with a buzz in the center of the Algarve (Vilamoura or Albufeira) then with the history and authenticity of the western Algarve (Lagos, Portimao or Sagres).
However Algarve can be a setting for incredible biking adventures or just to relax if that's what you're looking for! We always have great offers for you, some bikes as cheap as €15 per day!
You can see what bikes are available for rent. If you are not sure which bike is good for you let us know, we might be able to help you choose the perfect one that suits you!